Katrin König
Ceramics is Katrin König's connection to the world. She has been working with artists and designers from across the globe for over ten years as a technical advisor at the European Ceramic Work Centre (EKWC) in the Netherlands. Since 2007, she has been teaching mostly international bachelor and master students specialising in ceramics at the Institute for Artistic Ceramics and Glass (IKKG), part of the University of Applied Science Koblenz.
2019, in China wih students
Her work takes her to interesting places. In 2019, for instance, she accompanied her students to Jingdezhen, China's porcelain city, for an exchange programme. The previous year, she conducted a masterclass in Guadelajara, Mexico, at the National School of Ceramics, to kick off their 2018 annual country programme, that was dedicated to Germany.
Meanwhile, Katrin is at home at ceramic fairs in the Netherlands, Germany, Austria and Italy, where she sells her own art and catches up with ceramicist friends from all over Europe. As a long-standing member of the North Limburg Potters Collective, she has been actively involved in the organisation of Keramisto, the international ceramics festival in Milsbeek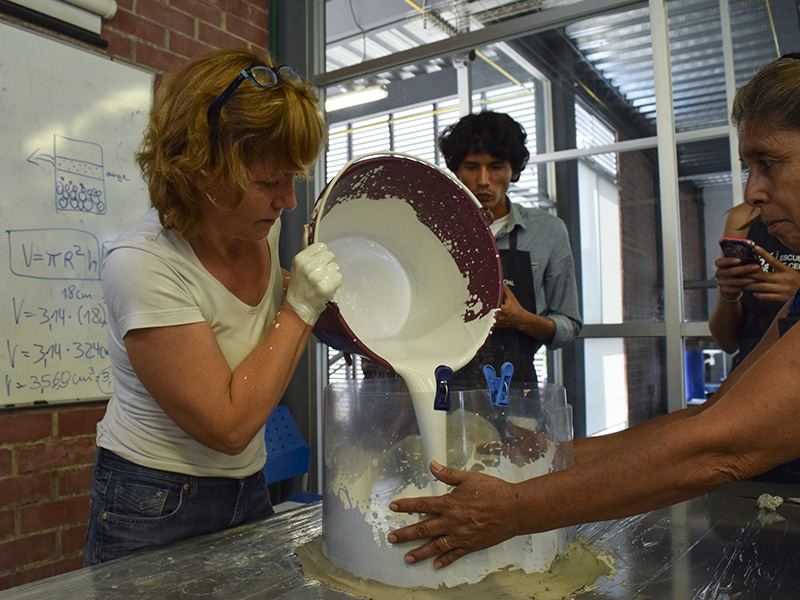 2018, workshop in Mexico
The transfer of ceramic knowledge and experience is of special concern to Katrin. Apart from her work as an advisor and teacher, she is involved in the Anagama Project, for example, a joint initiative of IKKG and EKWC to preserve ancient firing techniques of wood and salt firing in collaboration with contemporary artists and art students.
Katrin trained as a professional ceramist in the former GDR but moved to the Netherlands following the fall of the Wall. She worked in several potteries until relief organisation CIM sent her to Bolivia in 1996, to set up a fully-equipped educational centre for ceramics in the rural department of Cochabamba. After her return to Europe, nearly four years later, she settled in Niederrhein, where she is currently working and living in Goch-Hommersum, near the German-Dutch border.